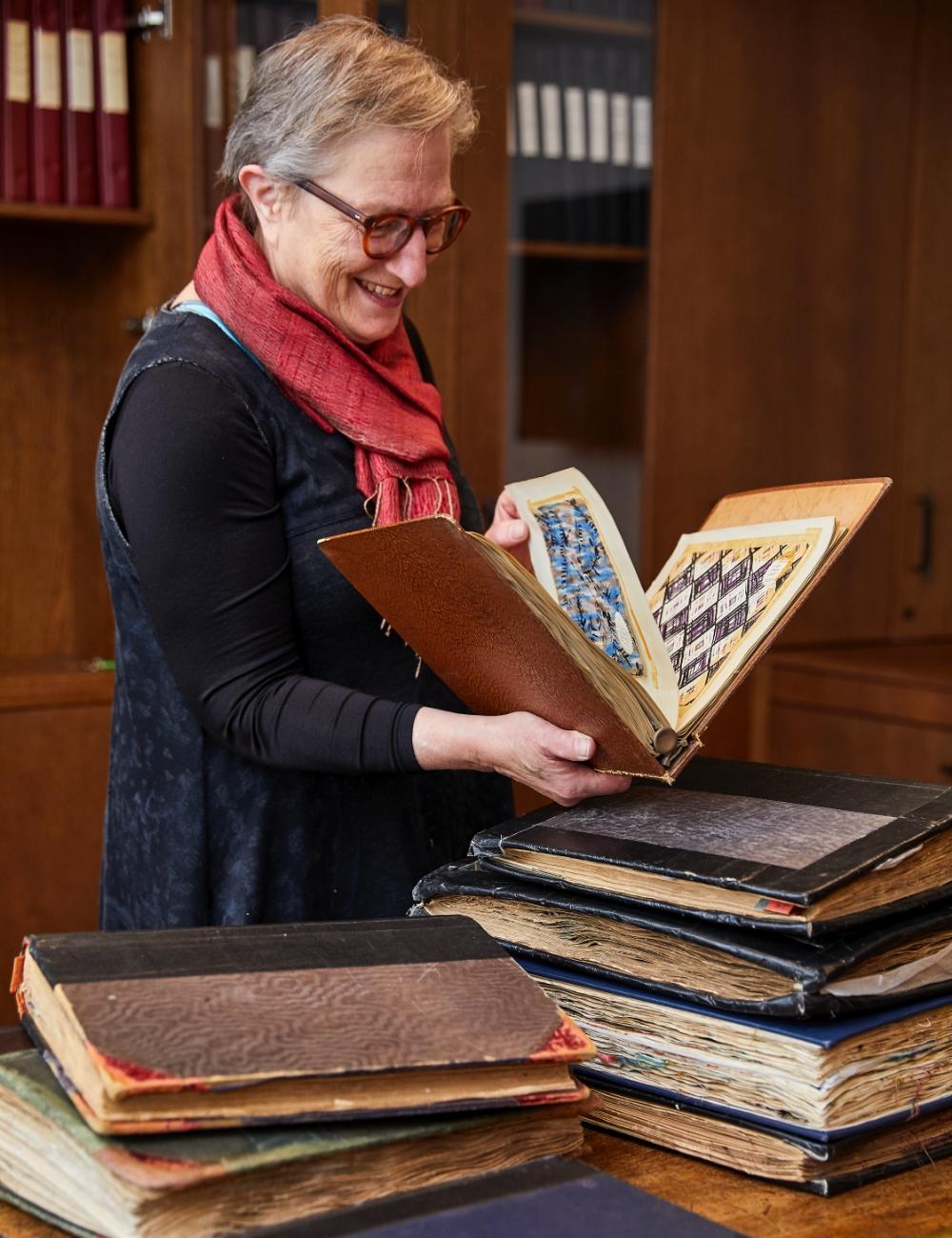 The Archivist's Edit is curated by legendary archivist Anna Buruma, the protector and custodian of Liberty's design history for over 20 years. Encompassing 20 beautiful prints, the collection shines a light into the more unusual and lesser-known corners of Liberty's archive.
Fragile fragments and half-forgotten artworks are regenerated into new designs by the in-house artists, drawing inspiration from Buruma's favourite themes from the archive as well as from across her own life and history. The result is a personal and proudly eccentric curation of prints.
"I like to challenge the design team, by showing them interesting but unresolved designs in the archive pattern books. There is so much potential in the pattern books, but the team usually doesn't have the time needed to take the fragment of a pattern and turn that into a finished design." – Anna Buruma
To create Ikat Neats the Liberty studio designers looked into the archive and drew various elements from pages in different 19th century pattern books, combined to create a vibrant modern check design.
"Spending time with Anna to select her favourite neats from within this archive book was a real joy. As our collection grew, so did the final patchwork – which holds the richness of liberty pattern history and inspiration." – Ffion Griffith, Senior Designer
Lizzy Rose is loosely based on a selection of swatches discovered in a 19th century Liberty pattern book. The print is of swags and garland of roses, transformed by the Liberty design team into a pretty and timeless Liberty floral.
"This design brings us full circle from Anna's theatrical background with these floral swags to classic Liberty. It is a great example of what this collection is trying to tell: a marriage between the archive and the design studio." – Ffion Griffith, Senior Designer
Camberwell Peacock is based on a beautiful but badly damaged watercolour Liberty design originally created for furnishing fabrics. Found in the archive torn and crumpled, it was rescued and conserved by students on the Camberwell School of Art paper conservation course – the design has been redrawn and adapted to work as a dress fabric.
"The students did a wonderful job of saving this piece so that it could again be an inspiring piece for our designers. We have now embarked on a major project of protecting our collection of pattern books, to keep them safe for future generations." – Anna Buruma, Head Archivist
Archive Allsorts celebrates Liberty's large archival collection of books with fabric swatches. The design takes a small leaf design from one book as its ground, as well as hand-written labels from many others – all combined into a beautiful new pattern.
"As a designer i have always been intrigued by the labels and fascinated by the variation in their style, as well as their exquisite handwriting. It was wonderful to have the opportunity to celebrate these often-overlooked items within our archive" – Ffion Griffith, Senior Designer
We also have a few copies of the Archivist's Edit book left – these have been flying off the shelf, so be quick!